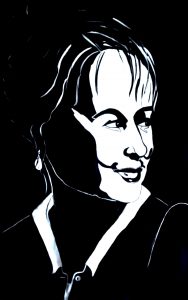 began teaching painting to amateur artists in my own studio, Atelier Bannink, in 1994. During the years – through experience and formal academic education – I have developed into a multi-faceted arts teacher with a clear view on how to teach drawing and painting. My starting point is a balance between learning and relaxed activity.
Eduacation and work experience:
Vrije Academie, The Hague
Amsterdamse Hogeschool voor de Kunsten (BA in Fine Arts and Education; teaching qualification in visual arts education and art history)
Active creative artist
Since 1994: teaching several painting techniques, figure drawing, art appreciation, in-service courses for primary school teachers and workshops.